The Solway Firth Spaceman, (AKA The Cumberland or Cumbrian Spaceman,) photographed by Jim Templeton in May 1964.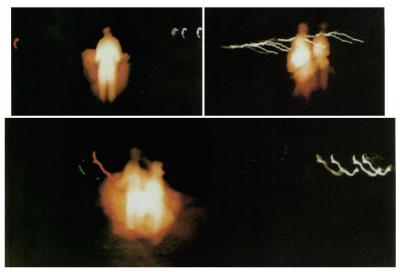 The Electrical Spaceman?
I'm also still curious about the pictures I first saw on page 97 of a book called 'Photographs Of The Unknown', which was co-authored by the Fortean Times' Robert Rickard. The caption reads: "Giichi Shiota, a professional photographer of Kawanoe City, Japan, was prompted by a hunch to wait late at night with his camera, on a deserted plot in the city. Suddenly he saw what looked like a "spaceman" who appeared to break into independent images enveloped in strangely coloured "electrical discharges"." -JA.
Comments (1) | Add a Comment
it looks like slender or the boogieman shuffling..........i got it! MY MOM!
the caca maximonium eater of death | anthonysanchez521@gmail.com | April 17, 2013